Issue #2
Urgencies
Pelin Tan (Ed.), Magnus Ericson (Ed.), Maria do Mar Castro Varela & Saphira Shure, Ana María León & Andrew Herscher, Tom Holert, Mauricio Corbalan & Pio Torroja, Ou Ning, Gustavo Esteva.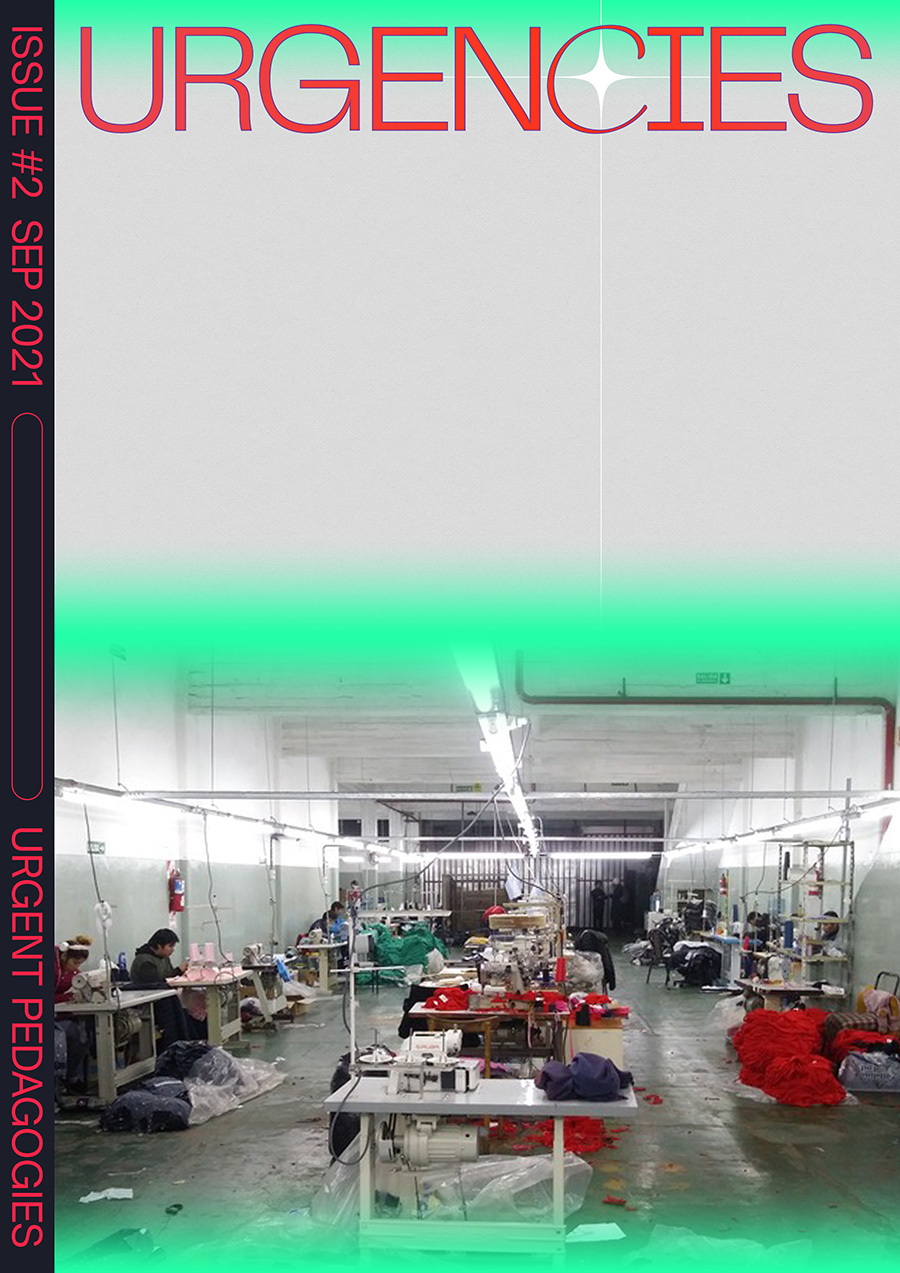 FILED ASissue
TEMPORALITYSep 2021
LOCATIONOnline
Welcome to Issue #2. Here we will present the second set of texts, where invited guests  share their experiences on decolonial practice and discourses, from diverse continents and argumentations on multiple scales of institutional urgencies.
There are many local and historical conditions that influence and urge contemporary and future needs of critical practices. Each planetary scale of territories fosters its own urgencies in response to conflict, racism, segregation, settler colonialism, climate crisis and struggles for indigenous rights. How is it possible to engage in such histories and current local struggles through pedagogical platforms, initiatives and advocacy? How can multiple scales of colonial pressure be mapped and how can modalities of artistic and design practices react?  How can the learning environment be a safe zone of and for counter-constructions? How does collective learning empower communality? This issue brings forward practitioners, authors and researchers that discuss urgencies through different cases and modalities of learning and unlearning.
María do Mar Castro Varela and Saphira Shure address the necessity of an education which enables especially marginalized students to deploy their imagination to resist growing autocratic ideologies. They founded bLab* as part of Schools of Tomorrow – a project by Haus der Kulturen der Welt (HKW) in Berlin, with the questions of What could and should schools look like? and What is the role of art in future educational institutions? bLab* is a collective of BIPoCs and migrant women who are activists, work in academia, are artists or work in the field of art education. María do Mar Castro Varela and Saphira Shure are bringing forward a practice which is basically an urgency of critically acting upon European structured institutional framework. This connects to an institutional critique between colonialism and architecture knowledge, by architectural historians Ana María León and Andrew Herscher. The authors argue for the tight connection between modern architecture and colonization. They claim in theory and practice that "unlearning architecture and learning decolonization requires the transformation of architectural pedagogy." With his long historical research on pedagogical structures and critical approach, Tom Holert focuses on counter-constructions of space as communal co-existences. He examines non-governmental agencies' discourse on learning and education and criticizes the conditions of vulnerable communities in the Global Souths. As a contra-institutional initiative that connects to previous authors, practices and arguments, Gustavo Esteva discusses the urgency and needs of Universidad de la Tierra /Unitierra (University of the Earth) – which is an autonomous university and an alliance of collectivities engaged in learning through action, based in Oaxaca. From his ideas and long experience in how to create spaces for learning, he discusses a decolonial attempt of an urgent pedagogical initiative that fights for indigenous people's rights. Ou Ning focuses on the term "urgency" and how pedagogical platforms played a role during Chinese cases of urbanization and gentrification. He focuses on the conflict of Urban and Rural learning and explains the experience of the Bishan Project, in a rural space. Architects Mauricio Corbalan and Pio Torroja are concerned with neighborhoods in the bottom-up level of social engagement under urbanization in Buenos Aires. They created the Laboratorio de Tecnología y Territorio in 2018, as an open space at urban-neighborhood level, in order to create spatial knowledge and practice in communal experience.
Contributors
María do Mar Castro Varela
is a professor of Pedagogy and Social Work at the Alice Salomon University in Berlin. She holds a double degree in Psychology and Pedagogy and a Ph.D. in Political Science. Her research interests besides Postcolonial Theory lies in Queer Studies, Critical Migration Studies, Critical (Adult-)Education, Conspiracy theories, and Trauma Studies. In 2014 she was a visiting fellow of the Institute for International Law and the Humanities in Melbourne, Australia, in 2015/16 a senior fellow at the Institute for Human Sciences (IWM) in Vienna and will be the Ustinov-Guest-Professor at the University of Vienna in winter 2021/22. María do Mar Castro Varela is the chair of the Berlin Institute for Contrapunctual Social Analysis (BIKA) and the founder of the bildungsLab* in Berlin.
Saphira Shure
is a postdoctoral research associate at the Faculty of Education at Bielefeld University. Her research focuses on racism and critical education as well as questions of difference and hegemony. One of the main concerns in her research is the analysis of educational institutions regarding their power structure and exclusionary practices. She also works on postcolonial perspectives and knowledge production. Saphira has been a member of the bildungsLab* since 2017.
Ana María León
is an architect and a historian of objects, buildings, and landscapes. Her work studies how spatial practices of power and resistance shape the modernity of the Americas. León teaches at the University of Michigan and is co-founder of several collaborations laboring to broaden the reach of architectural history including the Decolonizing Pedagogies Workshop, Nuestro Norte es el Sur, and the Settler Colonial City Project. She has co-organized several teacher-to-teacher workshops exploring architectural history's relationship to intersectional feminism, the global, the South, decolonization, and antiracism. Her book, Modernity for the Masses: Antonio Bonet's Dreams for Buenos Aires, was recently published by the University of Texas Press.
Andrew Herscher
endeavors to bring research on architecture and cities to bear on struggles for rights, justice, and democracy across a range of global sites. He is co-founding member of a series of militant research collaboratives including the We the People of Detroit Community Research Collective, Detroit Resists, and the Settler Colonial City Project; he is also co-founder of the Decolonizing Pedagogies Workshop at the University of Michigan, where he teaches.  Among his books are Violence Taking Place: The Architecture of the Kosovo Conflict (Stanford University Press, 2010), The Unreal Estate Guide to Detroit (University of Michigan Press, 2012), Displacements: Architecture and Refugee (Sternberg Press, 2017), and The Global Shelter Imaginary: Ikea Humanitarianism and Rightless Relief, co-authored with Daniel Bertrand Monk (University of Minnesota Press, forthcoming).
Tom Holert
works as an independent scholar and curator. He authored and co-authored various books and organized exhibitions—most recently, Neolithic Childhood. Art in a False Present, c. 1930 (with Anselm Franke), and Education Shock. Learning, Politics and Architecture in the 1960s and 1970s, both at Haus der Kulturen der Welt, Berlin. In 2015 he co-founded the Harun Farocki Institut in Berlin. Recent book publications include Knowledge Beside Itself. Contemporary Art's Epistemic Politics Sternberg Press, 2020) and Politics of Learning, Politics of Space. Architecture and the Education Shock of the 1960s and 1970s (De Gruyter, 2021).
Gustavo Esteva
is an independent writer and grassroots activist. He has been a central figure in a wide range of Mexican, Latin American, and international nongovernmental organizations and solidarity networks, including Universidad de la Tierra en Oaxaca. In 1996, he was an advisor to the Zapatistas in their negotiations with the Mexican government. A prolific writer, he is the author of more than 40 books, published in seven languages. He has also written hundreds of essays.  He is a columnist in Mexico's leading daily, La Jornada, and writes occasionally for The Guardian. Among his academic honors: an Honorary Doctorate (Honoris Causa), the National Award for Political Economy, and the National Award for Journalism. has served as president of the Mexican Society of Planning and the 5th World Congress on Rural Sociology and Chairman of the Board for the United Nations Research Institute for Social Development.
Ou Ning
is an artist, film maker, curator, writer, publisher and activist based in Jingzhou, China. He is the director of the documentaries San Yuan Li (2003) and Meishi Street (2006); chief curator of the Shenzhen & Hong Kong Bi-city Biennale of Urbanism\Architecture (2009); jury member of 8th Benesse Prize at 53rd Venice Biennale (2009); member of the Asian Art Council at the Guggenheim Museum (2011); founding chief editor of the literary journal Chutzpah!(2010-2014); founder of the Bishan Project (2011-2016); a visiting professor at Columbia University Graduate School of Architecture, Planning, and Preservation (2016-2017); and a senior research fellow of the Center for Arts, Design, and Social Research in Boston (2019-2021). His collected writings Utopia in Practice: Bishan Project and Rural Reconstruction is recently published by Palgrave Macmillan (2020).
Mauricio Corbalán and Pio Torroja (m7red)
are architects working and living in Buenos Aires, Argentina. Both studied architecture and urbanism at the FADU-UBA (Argentina) in the late eighties. From 1999 till 2004 they were founders and members of "m777", an architect's collective working on the fringes of the professional field. In 2005 they founded m7red.
M7red is an independent research network and activist group focused on building tools and methodologies for the description of complex scenarios and empowering people to deal with changes and developments in public space. M7red works closely with citizens, particularly marginalised groups disproportionately impacted by spatial injustice. From 2009 to 2014, m7red took part in a hacker-space making open data platform to tackle environmental problems like the polluted Matanzas Riachuelo river basin. In 2016 they published Mil cuencas, an e-book about the research on Buenos Aires river basins. Between 2016 – 18, together with Forensic Architecture, m7red took part in a collaborative investigation about "Sandra", the first captive orangutan to be granted non-human rights at the Buenos Aires Zoo. In 2018 m7red set up the Laboratory for Territorial Technologies to accompany an excluded workers' union (MTE) in the Buenos Aires metropolitan area. M7red has developed projects and collaborations with Jeanne van Heeswijk, raumlabor – berlin, Estudio Teddy Cruz, Transit Labour, Tomas Saraceno and Forensic Architecture. Its works have been exhibited at the Mercosul Biennial in Porto Alegre (Brazil), The APAP project 2010 in Seoul (ROK), the 3rd Design Biennale in Istanbul (Turkey) and at IASPIS in Stockholm in 2018.  Since 2019, m7red has been a contributor to The Funambulist Magazine and in 2020 they
EDITED BYPelin Tan, Magnus Ericson
LAST UPDATED30-09-2021