About cooking
Merve Gül Özokcu
FILED ASpractice
TEMPORALITY2017 – ongoing
LOCATIONStockholm, Sweden
"This ongoing research discusses how to document routines inherent in stories, and the adaptation of the changes by place and time are seen as a decolonisation practice."
Women Narrative Spaces' ongoing research brings together the various collective experiences of participatory fieldwork that use cooking together as a tool, starting with my grandmother. This research is an attempt to travel with women through their geographies while daily routines reveal spaces of caring and it encounters the inherent collective aspects of food. Oral history becomes a tool through which eco-feminist perspectives reveal the social reproduction of architecture. The research path starts with eating-cooking habits and their relationship with place. How do the memories of cuisines interact/adapt with geography? What is shared? What is the relationship between memory, daily routines of food, and space? How is it transferred to the present? Can these conversations be a guide to strengthening commons (sharing and solidarity practices)? This ongoing research discusses how to document routines inherent in stories, and the adaptation of the changes by place and time can be seen as a decolonisation practice.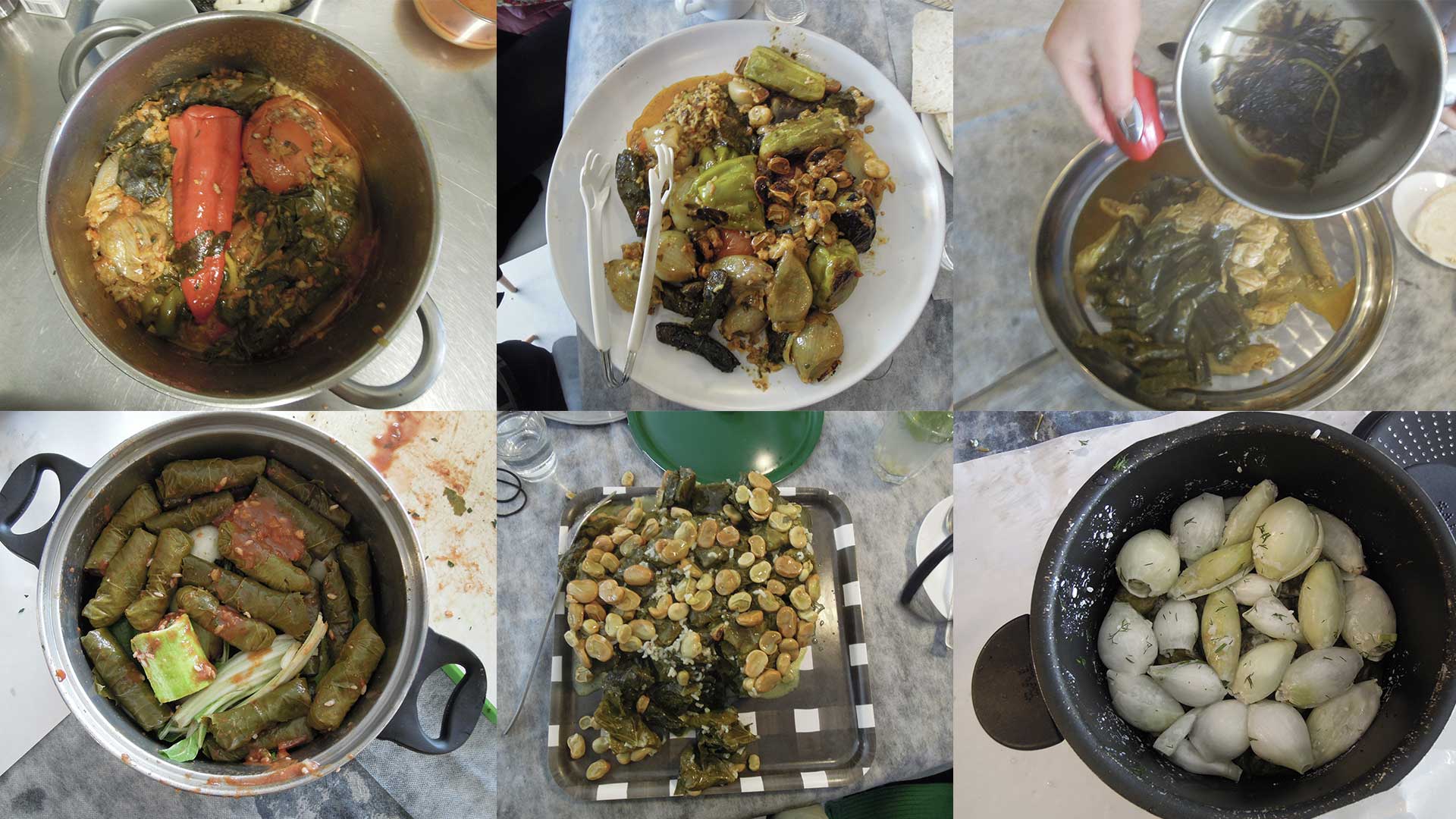 What do we have in common? Does it make sense to try finding shared things apart from the differences?
This part of the research is trying to engage with a group of migrant women in a short period of time. Those groups of women were living in Stockholm and most of them came from middle-east geographies just like me. My attempt was to find something we had in common that would help us to open up to each other. Like a dish that we share,  something similar to what I had shared with my grandmother. Sarma is one of the quite craft-dense preparation processes where the families call for other relatives and neighbours. Even the youngest child can have a duty around the table. Those were the tables where we shared stories, cried together, and sang together.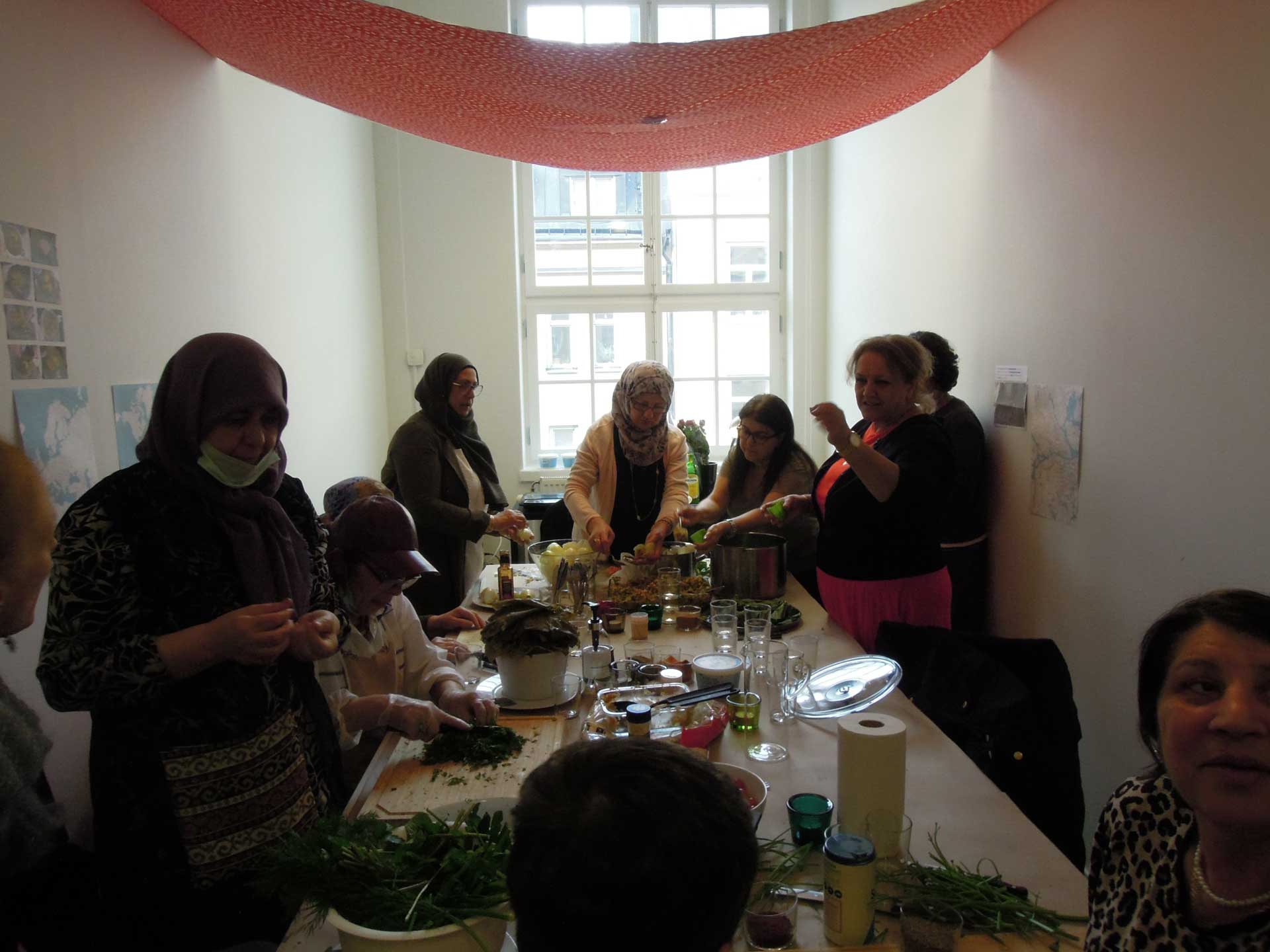 With the Women Cafe, we cooked several recipes to find out about the varieties of sarma. The result was like a show-off and we were proud of how at the same time we ended up having different and similar things on the table. We learned a lot from each other. And we learned that there were things to learn from what we already thought we knew everything about.
Then we shared our table with the others. Was this the first time we, as migrant women, taught someone else something? How easy was it to engage, even though we don't have a shared language?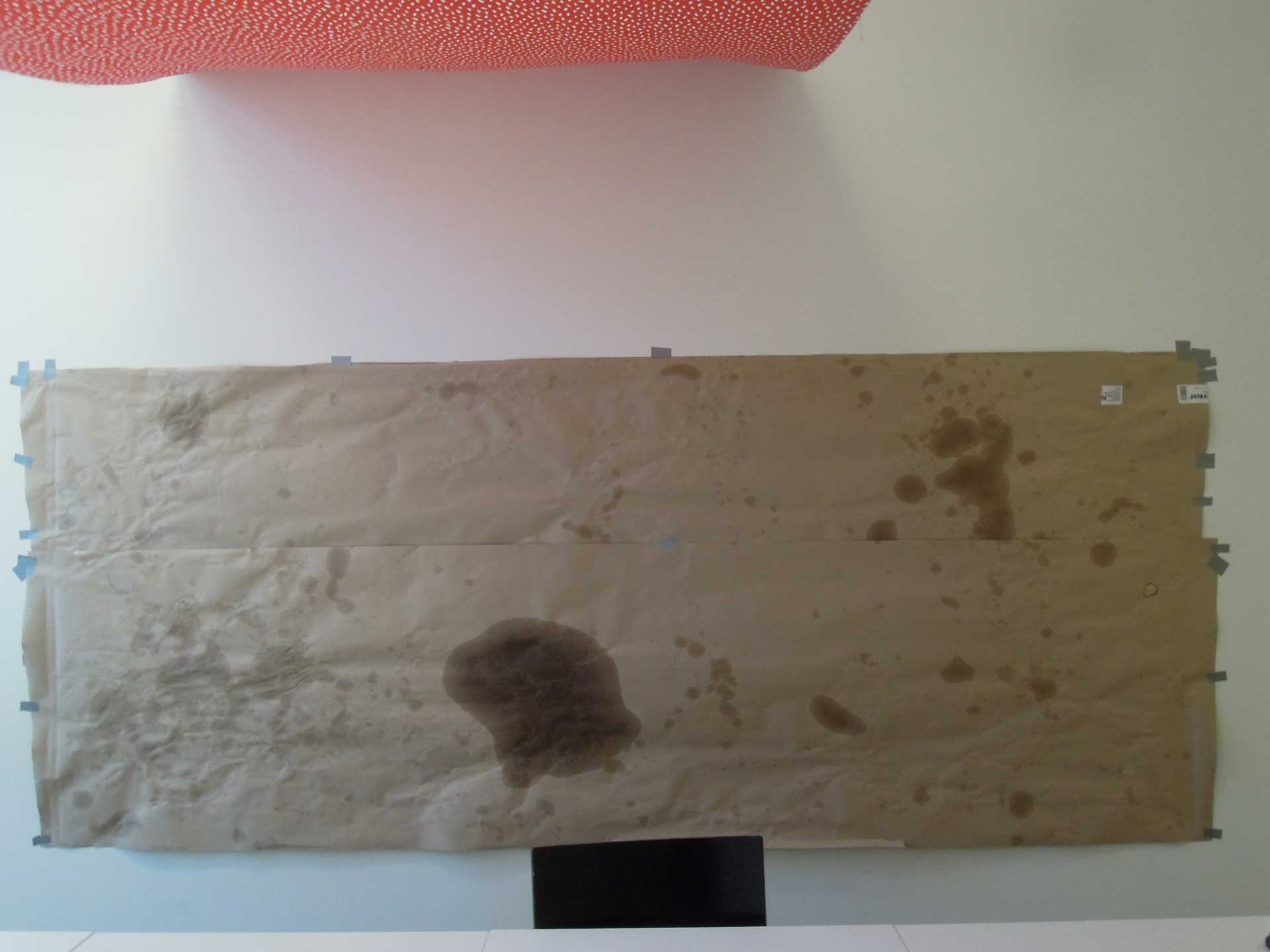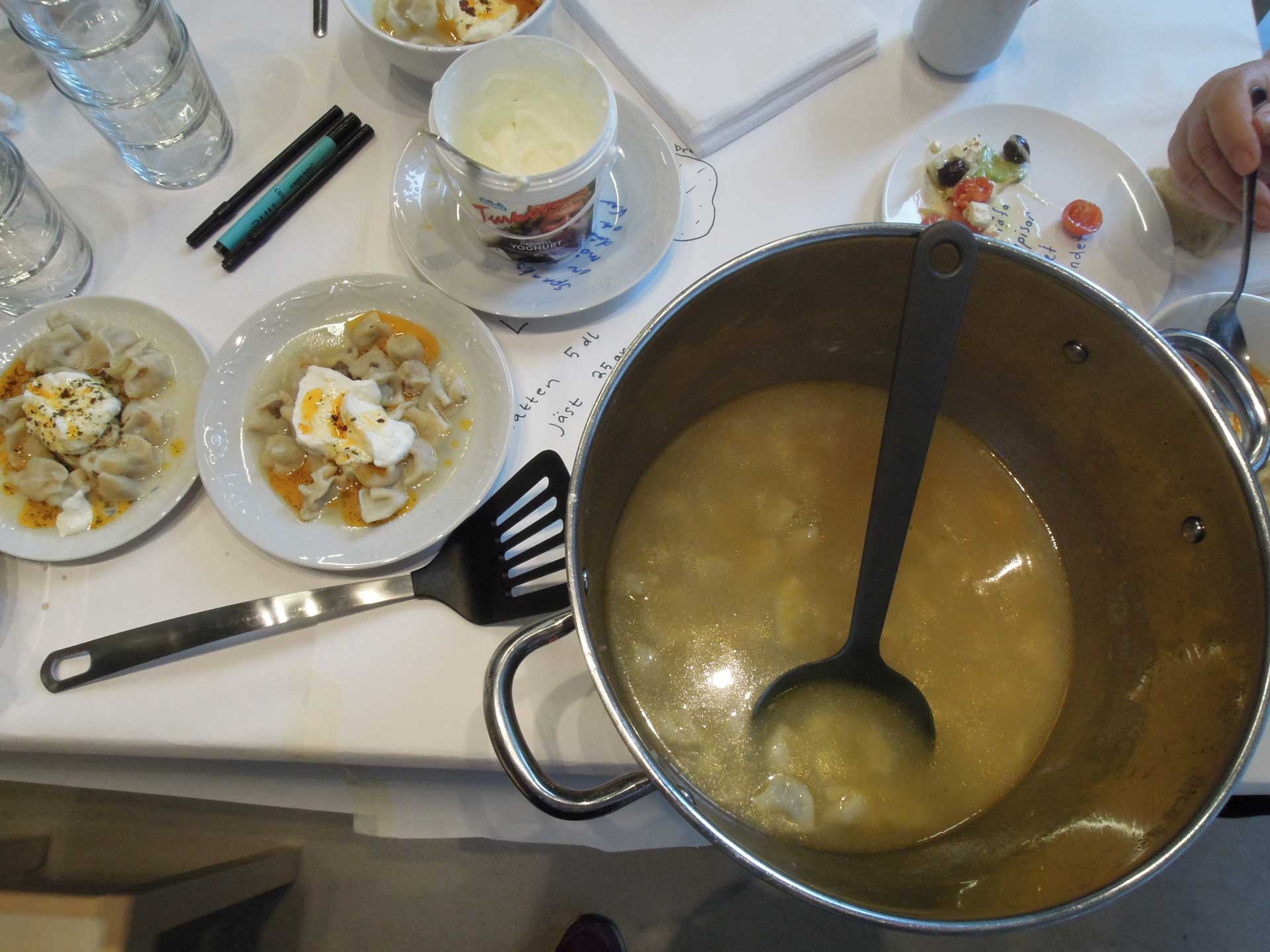 Baking bread and dough recipes like mantı was another sharing point between the different cultures. Which flour should we use, what kind of yeast do we have, how can we knead the dough collectively, and how to make the fire in the open-air oven to finally cook it! Remembering our grandmothers' routine, remembering a lot more that comes with this experience that we repeat with our muscles.
Spices are helping to remember things. We tried to figure out our family recipes. We share what we bring from our homeland. What do we keep for the winter? What do we have in our cellar? What does it mean to create a recipe similar to how it used to be in the homeland? How do we survive? What keeps us alive?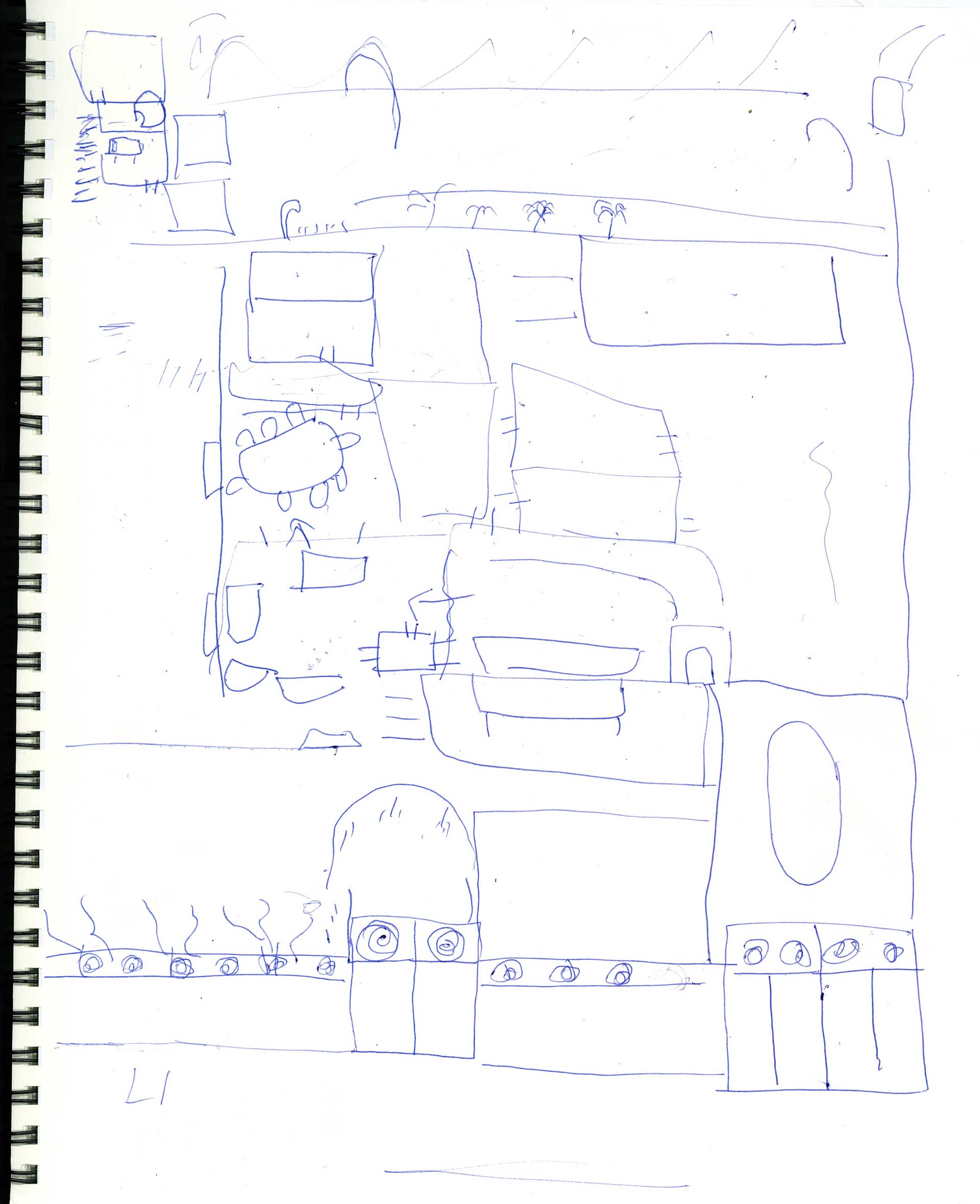 All the narratives that we share end up with a childhood home memory. Documentation of that home and trying to figure out how this nest is related to the geography at the time is giving us a base to remember and document our alternative "unrepresented" history. We enjoyed seeing what we had in common. This made us feel like we were not alone in any struggle.
About cooking is part of Urgent Pedagogies Issue#7: Entangled Topographies
Notes
1.
This research is based on the researcher's PhD study at Istanbul Technical University, Architectural Design Programme. In 2022, Supported by IASPIS, the Swedish Arts Grants Committee's International Programme for Visual and Applied Arts.
2.
Special thanks to Tensta Konsthall Women Cafe and Botkyrka Konsthall Kvinna för kvinna framåt.
Merve Gül Özokcu
is an architect, researcher, and activist. Her research focuses on commons, creative actions, narratives of everyday life, and indigenous eco-feminist practices. She is a member of Herkes İçin Mimarlık (Architecture for All) Association that aims to resolve social problems through architecture while searching for alternative ways of practising the discipline. She is a PhD candidate at the Architecture Design of İstanbul Technical University with the research entitled Women Narrative Spaces. Merve Gül Özokcu was a grant holder of IASPIS and İstanbul Cultural Art Foundation's Design Resilience Program.
EDITED BYMerve Gül Özokcu, Magnus Ericson
LAST UPDATED2023-10-09