Issue #4
Transversality
Pelin Tan (Ed.), Magnus Ericson (Ed.), Elof Hellström, Anna Colin, Christine Tohmé, Marie Hélène Pereira, Amalia Katopodis, Alessandro Petti, Marie-Louise Richards, Ola Hassanain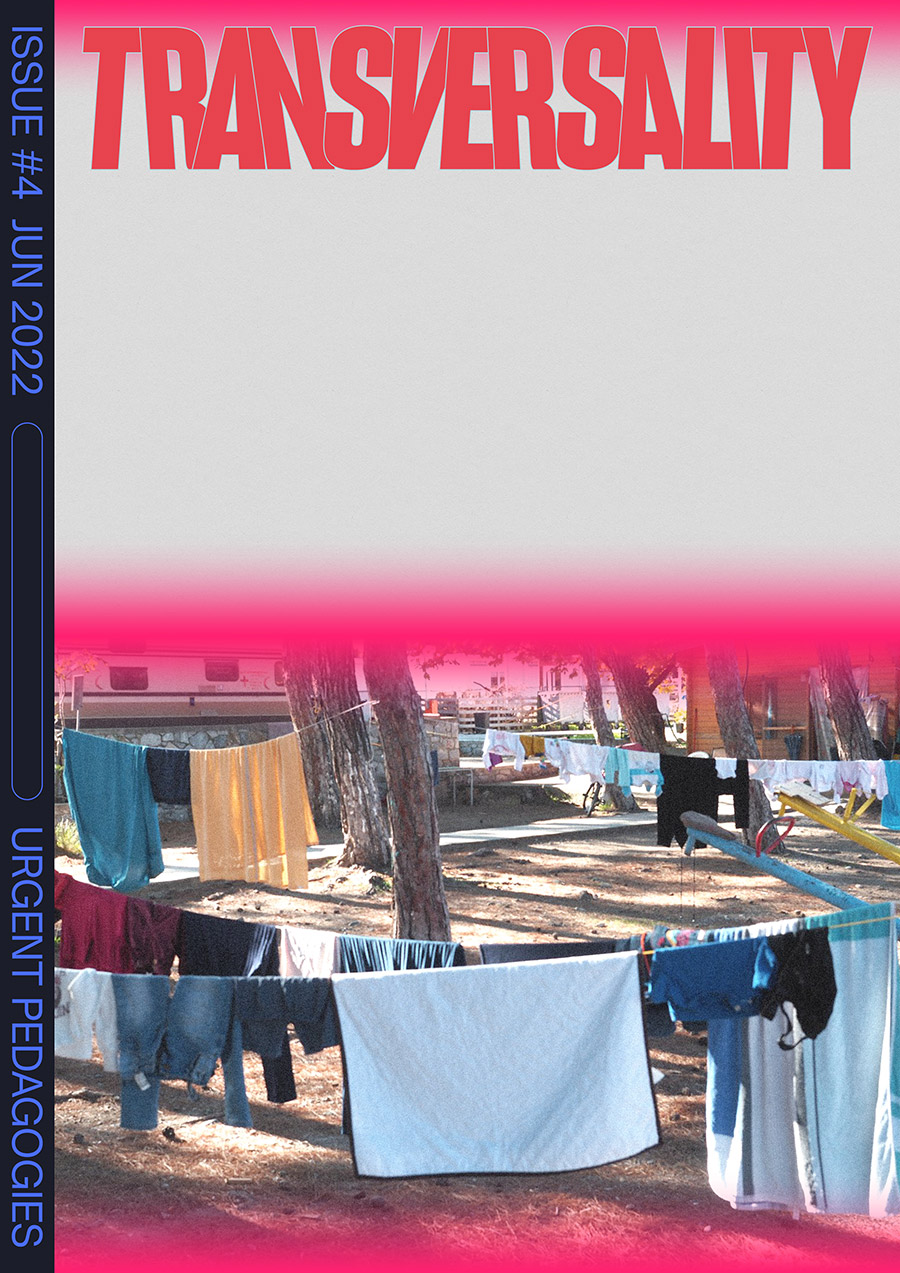 FILED ASissue
TEMPORALITYJun 2022
LOCATIONOnline
Welcome to Issue# 4. It focuses on various institutional practices in different spatial scales – from urban and regional to continental – that are shaped by social-political struggles and colonial histories.
How do transversal multi-disciplinary spatial and art practices use institutional structures and frameworks in initiating pedagogical tools and platforms? How do such pedagogical platforms function as infrastructures of care spaces, responding to urgent socio-political conditions? How do socially engaged practices play a role in building collective curricula hosted by spatial and art practitioners? In what geopolitical conditions may such socially engaged curricula transform themselves in transversal instituting?
Issue #4 presents a number of educators, cultural workers, curators, and spatial practitioners who discuss the processes and struggles of organising and engaging with pedagogical programmes that serve as care infrastructure, communal building and decolonial methodology. The contributors delve into transversality as a practice bodily embedded into everyday life, where the institution and instituting is a part of it. In this way, the development of such a practice changes the methods for instituting and influences the political body of an institution.
The philosopher and art theorist Gerald Raunig writes about "instituent practice": "Instituent practice as a process and concatenation of instituent events means an absolute concept beyond the opposite of institution: it does not oppose the institution, but it does flee from institutionalisation and structuralisation." In this framework, practices of collaboration, alternative economies, autonomous networks, self-organisation and surplus strategies radically differ from the reality of the neoliberal policies and logics of capitalist and colonial production that are being forced on institutions and institutional practice. In this issue, all practitioners navigate in various socio-political scales through creating autonomous practices of institutionalism by using pedagogical methodologies. Creating collective temporariness within the permanent structures through alternative educational methodologies appear as forms of resistance. Such forms empower the network of decolonial localities that sustain care infrastructures under ongoing crisis.
The issue includes experiences from protest movements and solidarity actions related to the economic and refugee crises in Europe, decolonising art education through alternative pedagogy in Senegal, dealing with broken infrastructural survival in Beirut, critical spatial practices as resistance in Sudan, and socially engaged neighbourhood experiences in uneven precarity conditions in the UK. It brings together visions of how transversal institutional practice manoeuvres as critical practice through collective learning and unlearning.
Gerald Raunig further describes the "instituent practice" of some self-organised art practices as a collective insurrection, and as a tool for dealing with the emergence of constituent power. His approach on discussing and defining institutional practices might be vital to understand different forms of institutional structures, either as a physical infrastructure or as individual practices, like the contributors of this issue.
Through the texts, presentations and conversations in this issue we aim to discuss aspects of inventing modalities of transversal instituting through pedagogical forms. What socio-political conditions lead to such forms? What kind of temporary institutional infrastructures are created with alternative educational tools? How can individual/collective practices create critical forms of unlearning? And how can such instituent practice deal with ongoing crises?
Pelin Tan
Elof Hellstöm writes about how the cultural house Cyklopen has been developed into an urban common and site for learning, drawing a parallel to the development of the Swedish People's House movement with an origin in the late 19th century. By comparing, it becomes clear that the urban commons are nothing new and he suggests that methods from this movement – before the Swedish Welfare State took form – might be relevant for self-organised institutions today. Looking at People's Houses, he claims, is also to point towards the importance of owning one's own place, making long processes possible and allowing for trial and error with methods that might be relevant in the face of the commodification of both the city and educational infrastructures. There are clear parallels between the workers' movement's educational programmes and Cyklopen's pedagogical activities, with for example reading groups and study circles, but Elof also points out that building and organising this autonomous space has itself been a pedagogical adventure and a way to comprehend the social world and how to change it.
In the online presentation and conversation, Anna Colin, who co-founded the alternative art school and community space Open School East, describes how it was set up in response to spiralling fees and student debt, making art education accessible to a broad cross section of society. This was done by making its programmes entirely free of charge and opening them outwards, responding to local needs, and providing an informal and welcoming environment for the development and sharing of skills and knowledge across all communities and generations. She discusses how Open School East has developed into a situated learning environment that facilitates placing learners in real life situations that directly connect to the experiences of the neighbourhoods or the communities they are a part of, or subjects that are directly relevant to them. She presents the programme and how the different parts connect and benefit from each other, what it means in relation to urgent issues in the local context, and how this knowledge can be transferred and distributed through new models.
In the interview with Christine Tohmé, co-founder and director of Ashkal Alwan, she describes how the Home Workspace Programme was initiated and organised as an academic programme within Ashkal Alwan, and how its role has changed in relation to the current situation in Lebanon. Ashkal Alwan is a non-profit organisation based in Beirut and since its foundation in 1993, the association has dedicated itself to promoting contemporary artistic practice, fostering critical thinking around social realities, and engaging in community-based projects. The Home Workspace Program has been organised annually around workshops, seminars, lectures, group critiques and studio visits. "Visiting Professors" and their invited guests have organised workshops and seminars based on their practices. Christine discusses how the struggle in Lebanon, with a number of crises unfolding, has greatly affected the institution and its role in relation to the local situation, and how to think through potential configurations that would best fit their communities. She describes a new era of cultural isolation and how it is now time to determine tools to engage with the battle to come – and the importance of being committed to alternative modes of cultivating friendships and networks of solidarity.
Curator and Director of Programs Marie Hélène Pereira presents RAW Material Company, and its pedagogical programme RAW Académie. RAW Material Company is a centre for art, knowledge, and society in Dakar. It is an initiative involved with curatorial practice, artistic education, residencies, knowledge production, and archiving of theory and criticism on art, aiming to foster appreciation and growth of artistic and intellectual creativity in Africa. Marie Hélène discusses how the centre was developed in a Senegalese context, and how the pedagogical programme was developed as a response to the growing need for spaces that nurture learning and unlearning. She points at how artistic education in Senegal has, in many ways, been modelled by a colonial context, that provokes a need for an update that allows RAW to align with the current situation and its urgencies. She presents a programme dedicated to a dynamic reflection on artistic research, curatorial practice, and critical writing and how it is organised with faculty members and fellows from all over the world.
Architect and educator Amalia Katopodis presents the Master Programme at Umeå School of Architecture and  discusses how education has fundamentally been restructured to respond to a reality in need of socially engaged architecture practices. Through her own experience, she describes the changing role of the architect in relation to different societal urgencies – from the economic crisis in Greece 2010 with protests and occupations in Athens to the 2015 refugee crisis related to the war in Syria. In this context she explains how the school has organised a new master programme in Architecture and Urban Design and developed pedagogical methodologies based on situated learning, hands-on and action-oriented approaches, and a 1:1 perspective. This has been used in a series of studio courses in response to different global challenges. Amalia presents methodologies and experiences from two studio courses focusing on issues of migration situated in the realities of Lesvos and Izmir.
Architects and educators Alessandro Petti and Marie-Louise Richards gives another perspective on academic education and describe the Decolonizing Architecture Advanced Course at the Royal Institute of Art in Stockholm, as an engagement in a collective endeavour in experimenting with decolonial approaches. In asking themselves "what does it mean to decolonize", they point at the need to not only challenge but also reframe (or even abandon) our institutions, epistemologies, disciplines, and practices; "We need to re-imagine ways of thinking, speaking and doing, in a world where colonial structures shape bodies, spaces, buildings, and landscapes". Alessandro and Marie-Louise have both previously worked outside institutional frames in refugee camps and in segregated suburban neighbourhoods, therefore they are aware of the limits and the potentialities of practising outside or inside the institutions. They see the university both as a site of oppression but also of "potential liberation to become who we want to be, a transformative site for ourselves and the surrounding environment".
Finally, in an interview Ola Hassanain responds to questions about her practice as an architect, artist, researcher, and educator. She's working with urban researchers in Khartoum, Sudan, around issues of women, public space, and policies. Her research and pedagogical practice engages with politics of space and issues of cultural identity and gender. She talks about her experience from being trained in architecture at the University of Khartoum and later in art at MaHKU, Utrecht Graduate School of Visual Art and Design, and how her own pedagogical and practice threads inform and shape each other. Ola elaborates on how her attempts to make her practice generative through deep spatial analysis, where she extends questions that arise from her practice towards her teaching. This also allows to carve a reflexive space and to open space as discourse around architecture as an all-encompassing discipline that beyond form, is dealing with the socio-political, environmental, emotional, and ecological factors that go into space-making.
Contributors
Elof Hellström
explores urban transformation, spatial justice and self-organization, in his artistic practice, writing and research – often through collaborative and collective practice. He is editor of the independent newspaper Stockholmstidningen and member of the collective research projects Mapping the Unjust City and Agentur. Since 2007 he is also active in the self managed cultural space and urban common Cyklopen in Högdalen, Stockholm, where he during the spring of 2021 is broadcasting a weekly radio show.
Anna Colin
is a curator, educator and researcher who co-founded the free, independent art school and community space Open School East in London, then Margate, where she was a director until 2021. Colin works as a lecturer at the MFA Curating at Goldsmiths, University of London, and is completing her Phd on the notion of the alternative in multi-public educational and cultural organizations from the late 19th century to the present, in the UK and further afield, at the University of Nottingham. Alongside her curatorial practice, which straddles the social and the ecological, Anna is currently training in horticulture and garden design.
Christine Tohmé
is a Lebanese curator and the founding director of Ashkal Alwan, the Lebanese Association for Plastic Arts. Since its founding in 1993, Ashkal Alwan has been committed to contemporary artistic practice, research, and education. In 2016–18, Christine Tohmé curated Sharjah Biennial 13, Tamawuj. Tohmé is also on the boards of Marsa, a sexual health centre for at-risk youth and marginalised communities in Beirut; Afterall: A Journal of Art, Context and Enquiry; Haven for Artists, a Beirut-based artist collective; and the International Biennial Association, a platform for contemporary art institutional knowledge production and exchange.
Marie Hélène Pereira
is a Curator and Director of Programs at RAW Material Company where she has organized exhibitions and related discursive programs including the participation of RAW to "We face forward: Art from West Africa Today" Whitworth Art Gallery, Manchester; ICI Curatorial Hub at TEMP, New York; The 9th Shanghai Biennial, Shanghai; MARKER Art Dubai (2013). She co-curated Scattered Seeds in Cali-Colombia (2015-2017) and curated Battling to normalize freedom at Clarkhouse Initiative in Mumbai, India (2017). Pereira was a co-curator of Canine Wisdom for the Barking Dog – The Dog Done Gone Deaf. Exploring The Sonic Cosmologies of Halim El-Dabh with Dr Bonaventure Soh Bejeng Ndikung at the 13th edition of Dakar Biennale of Contemporary African art (2018).
Amalia Katopodis
is an architect and educator, currently lecturing at Umeå University School of Architecture since 2015, where she was Deputy Head and Program Director [2016-2020] responsible for the development and implementation of innovative pedagogical structures and approaches in education. During the past years, in collaboration with Prof. Robert Mull and within the context of UMA and the Global Free Unit she has carried out a number of summer courses and live workshops both in Izmir-Turkey and Lesvos-Greece working closely with local communities and different actors to address the topic of displacement. In recent years and working together with Sangram Shirke this has led to the establishment of the socially embedded live project studio: Architecture for Displaced Populations in Greece and Turkey.
Alessandro Petti
is a Professor of Architecture and Social Justice at the Royal Institute of Art in Stockholm and co-director of DAAR (Decolonizing Architecture Art Residency), an architectural studio and residency program centre around the relation of politics and architecture. In 2012 with Sandi Hilal he founded Campus in Camps, an experimental educational program in the Dheisheh refugee camp in Bethlehem. His lasted publication, Permanent Temporariness (Art and Theory Publishing, Stockholm 2019), is a book, a catalogue, and an archive that accounts for fifteen years of research, experimentation, and creation against and within the condition of permanent temporariness.
Marie-Louise Richards
is an architect, lecturer and researcher at the Royal Institute of Art in Stockholm. Since 2018 she has been teaching the course Decolonizing Architecture. Her current research explores invisibility as a critical strategy, subjectivity and spatial category in the ongoing research project: Hyper-visible Invisibility: Tracing the Politics, Poetics and Affects of the Unseen, published in The Field Journal: Becoming a Feminist Architect (2017). And in the collaborative artistic research project Spaces of Care Disobedience and Desire: Tactics of Minority Space-Making, initiated together with Rado Ištok and Natalia Rebelo at the Royal Academy of Art.
Ola Hassanain
is an architect, artist and researcher working between Sudan and The Netherlands. She trained her focus on the subtle politics of space—namely, how built spaces react to and reinforces violence from state entities, which in turn, creates a built environment that regulates the lives of those who inhabit it. Her most recent work explores an idea of "space as discourse," an expanded notion of space that encompasses political and environmental questions. Her work tries to develop a spatial vocabulary that follows how ruptures presented by 'political events', make it possible to aspire to new kinds of ecologies. Ola's development of critical spatial practice is partly informed by her post-academic training;  an ongiong Rijksakademie residency, a BAK fellowship 2017-2018 and teaching in HKU University of the Arts Utrecht and Sandberg Institute amongst others.