Something in the site itself provides a motivation for study
Elof Hellström
FILED AStheory (Urgent Pedagogies text commission)
TEMPORALITYNovember 2020
LOCATIONStockholm, Sweden
"One way of situating Cyklopen is to note that it is managed as an urban common. Not just a collective that manages a resource for the public — but an ongoing attempt to find more democratic ways of organizing space and resources"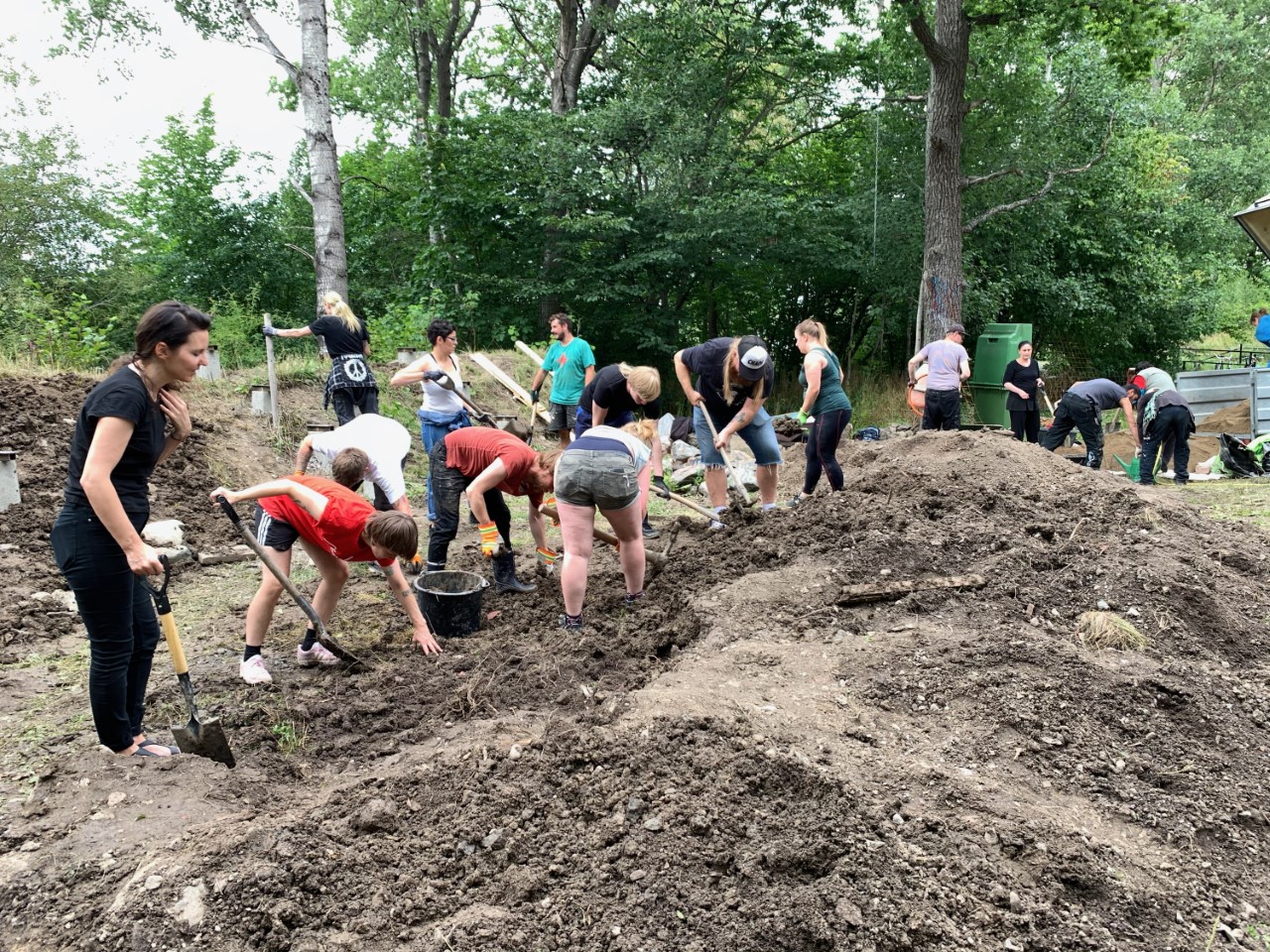 Högdalen, Summer 2020: No one could claim that it's a display of any great craftsmanship, and it's no showcase of efficiency either. It is the summer of 2020 and we are building an amphitheater at the cultural house Cyklopen in Högdalen, one of Stockholm's southern suburbs. Anyone can join our construction efforts, and some days we are more than 30 people, carrying the solidified mud across the site in the sun and trying to learn how to cast it into structural elements. None of those arranging the construction days knows much about casting, but something we learned when constructing Cyklopen in the first place is that it's possible to teach others things that you didn't know yourself. In the midst of a pandemic, we are reminded of the joy of doing things together and how having a space allows for experimentation and conversations that are otherwise hard to find time for.[1]
Malmö, Spring 1893: Less than one year after the foundation stone was laid, it is time for the inauguration. The first People's House (Folkets Hus) to be built by the workers themselves is to be celebrated. Anticipation and pride hang in the air. The double-storey timber structure, with rooms for meetings, festivities, and even a print shop, will finally solve the spatial problems that have become increasingly urgent in recent years. The unions, together with individuals, have created a scheme to finance the house: bricklayers, carpenters, and unskilled laborers have built it themselves. The workers are standing in front of a space of their own – a house of their making.[2]
In putting these two events alongside one another, the intention isn't of course to imply that they are the same in scale, or magnitude, or their importance to the history of the Swedish workers' movement. Nor is it an attempt to show how history repeats itself, or that the similarities are greater than the differences. By looking back 130 years, what rather becomes clear is that the urban commons are nothing new: there are methods here – before the Swedish Welfare State took form – that might be relevant for self-organized institutions today. To look at the People's Houses is also to point towards the importance of owning your own place. This understanding makes long processes possible and allows for trial and error with methods that might be relevant in the face of the commodification of both the city and educational infrastructures and a horizon where the Sweden Democrats party (Sverigedemokraterna) – with roots in the nazi environment – may well enter the Swedish government. By looking towards the first decades of the People's House, productive questions unfold around self-construction, urban commons, and the context of "urgent pedagogies".

*
Recent decades have witnessed the (still ongoing) deregulation of housing and public space in Sweden and in Stockholm, whereby local centers and homes have been incrementally bought up by multinational housing companies.[3] Stockholm's infrastructure has been drastically transformed by the forces of speculation and financialization, and an economically polarized city has emerged, characterized by an ongoing enclosure of all non-commercial places for culture.
It is in this context that Cyklopen has been trying to establish and understand itself as a cultural and social center. The house was voluntarily built between 2010 and 2013 through what could be described as a collective and ongoing workshop in building techniques and construction methods and for sharing knowledge. Between the inauguration and the COVID-19 break, the space has been used for concerts, meetings, screenings, poetry evenings, as an ongoing open studio, and for a weekly food-sharing language café. The management of the house is designed in such a way that meetings are open for anyone to join – by attending the meetings for some months and agreeing with the platform, people can become members. From the beginning, there was a decision to not take any running grants from the public or private sector, and everyone works voluntarily, which provides both limitations and possibilities in relation to management.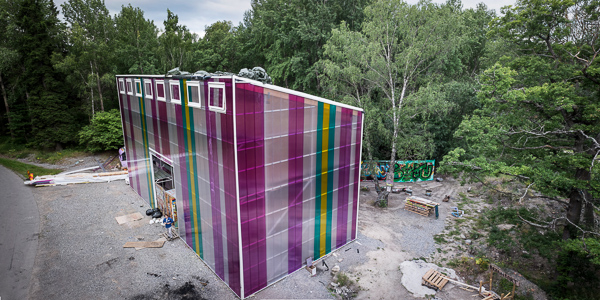 One way of situating Cyklopen is to note that it is managed as an urban common. Not just a collective that manages a resource for the public – but an ongoing attempt to find more democratic ways of organizing space and resources. In line with this search, the cultural and social practices that take place in the house are two-fold: they seek to improve the daily material livelihoods of the precarious inhabitants of the area where Cyklopen is situated and to experiment with new relations to each other, the space, and the environment, reaching beyond a politics of the everyday and rejecting the division of means from ends in the process.
*
The inauguration of the People's House in Malmö and the new People's House movement were preceded by years of using venues in dangerously bad condition, as well as high levels of repression. The requests of unions and political associations to rent spaces were often refused since police forced landlords to not rent their spaces to the emerging socialist movement. At the same time, demonstrations in defence of free speech were also often banned in advance or dissolved by the cops. Solutions to this spatial problem was to create associations with fictive names to get around the landlord's collaboration with the police, or to gather along roads or in the green areas in the outskirts of the cities. These strategies has afterwards become emblematic of the movement's history, but back then they didn't of course guarantee success. Given all of this, it would not be an understatement to say that the first People's House in Malmö was long awaited.  
Even if the People's House movement coincided with the emergence of a western notion of urbanity, in Sweden it was never an urban phenomenon. The first self-built house in Malmö followed one in the smaller town of Kristianstad, then there was a trajectory of building that moved north, with houses eventually being built all over Sweden.[4] The houses were most often built by the workers themselves, after a 12-hour working day, on Sundays, or in parallel with lockout periods. Between 1895 and 1915, 200 such houses were built, financed by the workers themselves. These contained functions such as restaurants, and spaces for meetings, theaters, that also become spatial nodes for solidarity actions. 
The popular education had a central position in the People's House movement. For instance, the houses gave space to traveling agitators to hold lectures on subjects such as free speech, universal suffrage, and reproductive health. When the study circles pedagogy was formulated in Sweden in 1902 it soon became significant inside the People's Houses. The form was clear: there should be more than five participants and the method was self-study. A practical tilt was evident in the curriculum, through subjects like accounting, associations knowledge, and economics, but there were also circles in craft and literature where people red Jack London, Upton Sinclair, and Swedish worker writers.[5] When the first People's House was inaugurated at Norra Bantorget in Stockholm 1901, the worker's library held 6,000 titles, the result of a merger between 22 smaller libraries ten years earlier. Above the entrance was the inscription: "For workers, by workers."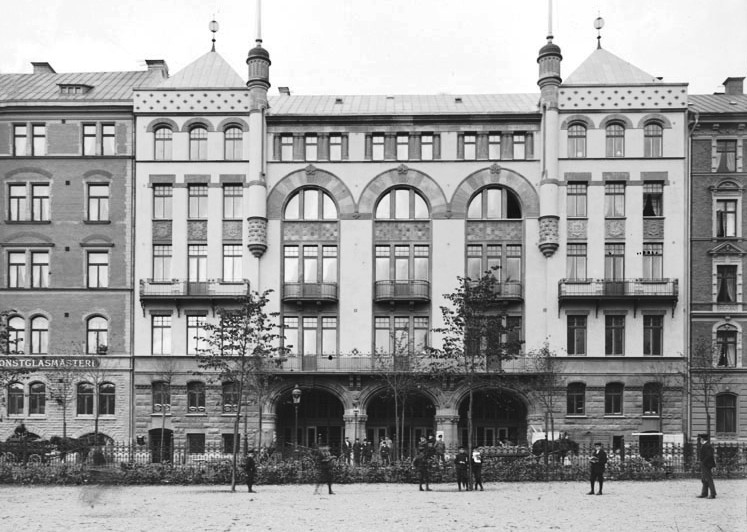 In 1912, the circles and pedagogical programs were taken over by ABF, the Workers' Educational Association, even if one often continued to use People's House facilities, and the libraries often became the foundation for public libraries. New state and municipal funding saw the popular education programs increasingly tied closer to state and society. It is worth noting that notions of education and cultural questions did not always differ markedly from the interests of the bourgeoisie and large segments of the worker's movement saw their mission as one of mediating "high" culture to the masses. As Per Sundgren (who for some years was part of the Cyklopen collective) summarizes: "What concerned the bourgeoisie was not first and foremost the content of the worker's movement educational programme, but they were provoked by the fact that the workers built up their own institutions beside the existing ones."[6]
*
When Cyklopen was built it is said to be the first house built voluntarily for the public in Stockholm since the first decades of the People's House movement. Even if reading groups, study circles, and other pedagogical programs have always taken place at Cyklopen, the greater pedagogical adventure might lie in the daily drama of reproduction of shared resources, and creating formal and dynamic structures for knowledge sharing. To question conventional public frameworks and the logic of the market makes possible an ongoing learning process. This has also to be open and always-in-the-making so as to expand the inherent learning that comes with self-organization beyond the inner circles.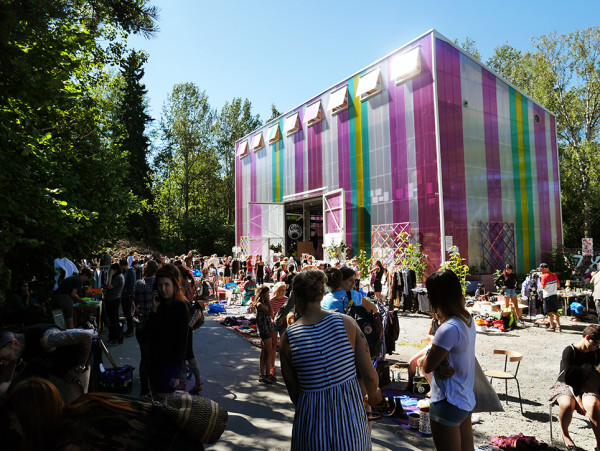 Even if one of the arguments for building Cyklopen could be said to create an opposition towards the perceived bureaucracy that the worker's movement's major institutions were accused of creating, there has been a transformation towards greater collaborations with existing neighboring People's Houses as well as with the aforementioned ABF. At the same time, other collectives have chosen to get involved in these old institutions, with the ambition to update their structures and political and aesthetic relevance.[7] Cyklopen has decided to keep its autonomy as "situated outside" rather than an absolute and self-contained entity, and it struggles with everything that comes with direct democracy, D.I.Y, and having no budget. But whether viewed from the inside or the outside of existing institutions, the formative years of the People's House unfold a series of discussions about how to move on up in scale as well as how to create infrastructure for other spatial values by being radical, open and always striving to overstep the community that manages existing resources.[8] Navigating questions like these might open up for new "urgent pedagogies," or as Margareth Kohn writes in relation to a poem on Maison du Peuple in Brussel: "It is not merely a place where books, teachers, and students come together – something in the site itself provides a motivation for study. It's a microcosm of a world where it has become meaningful to study and to learn political skills. There is a reason to understand the workings of the social world because it is possible to change it"[9].
This text has been commissioned and written uniquely for Urgent Pedagogies.
Notes
1.
For more about the first ten years of Cyklopen's history preceding the inaguration, see: Cyklopen 2003-2013, ed. Ivar Andersen (Cyklopen förlag, 2008). For more about Cyklopen in relation to commoning, see: Elof Hellström and Pedram Nasouri, "Ett öga för det gemensamma" in Ockuperat! Svenska husockupationer 1968-2018, ed. Mathias Wåg and Dominika Polanska (Verbal Förlag, 2019) and Elof Hellström, "Gemensamma försök – gemenskaper i staden" in Gubbängsutredningen fortsätter, ed. Jens Standberg (Dokument Press, 2019).
2.
Svenska folkrörelser 5, Folkets hus och parker, ed. Gottfrid Palm (Lindfors, 1939).
3.
This is a transformation that has not only affected Stockholm but all major cities in Sweden, and that at the same time has sparked new local strategies for resistance – see: Jennie Gustafsson (in collaboration with Allt åt alla Malmö), Elof Hellström, Åse Richard, and Scott Springfeldt, Resistance and organizing in the wake of changing housing policies in Sweden, Radical Housing Journal Issue 1.2, acessed 12 Oct 2020 https://radicalhousingjournal.org/2019/the-right-to-stay-put/.
4.
Torbjörn Almqvist, Hjördis Johansson, and Lena Simonsson, Vad folket byggde, ett utkast till rörelsernas bebyggelsehistoria (Sveriges arkitekturmuseum och Nordiska museet, 1972)
5.
Margareta Ståhl, Möten och Människor i Folkets Park (Stockholm: Arena, 2005)
6.
Per Sundgren, Bildning – en klassfråga? in ABF hundra år – och sedan?, ed. Lars Ilshammar (Kata, 2012). Quote translated by Elof Hellström
7.
For more about Folkets Husby and the history of The People's House, see: Aleksandra Åhlund, Carl-Ulric Schierup, and Ilhan Kelleciuglu, "Reinventing the People's House, Time, Space and Activism in Multi–Ethnic Stockholm", Sage Journal, September 2020. Acesssed Oct 12, 2020. https://journals.sagepub.com/doi/full/10.1177/0896920520957066
8.
The openness of the houses is one of the themes in a longer text about the People's House and Parks, see, Johan Pries, Erik Jönsson, and Don Mitchell, "Parks and Houses for the People", Places Journal, May 2020. Accessed Oct 12, 2020. https://doi.org/10.22269/200512
9.
Margaret Kohn, Radical Space: Building the House of the People (Cornell University Press, 2003)
Elof Hellström
explores urban transformation, spatial justice and self-organization, in his artistic practice, writing and research – often through collaborative and collective practice. He is editor of the independent newspaper Stockholmstidningen and member of the collective research projects Mapping the Unjust City and Agentur. Since 2007 he is also active in the self managed cultural space and urban common Cyklopen in Högdalen, Stockholm.
EDITED BYMagnus Ericson, Roberta Burchardt
LAST UPDATED2020-12-22