3 Dec 2019 Formal and Informal Learning Environments
FILED ASevent (IASPIS seminar)
TEMPORALITY3 Dec 2019
LOCATIONIASPIS, Stockholm, Sweden
In this second Urgent Pedagogies public seminar and gathering at IASPIS perspectives on formal and informal learning environments, between academia and activism, were presented and discussed with practitioners and thinkers from art, architecture and design.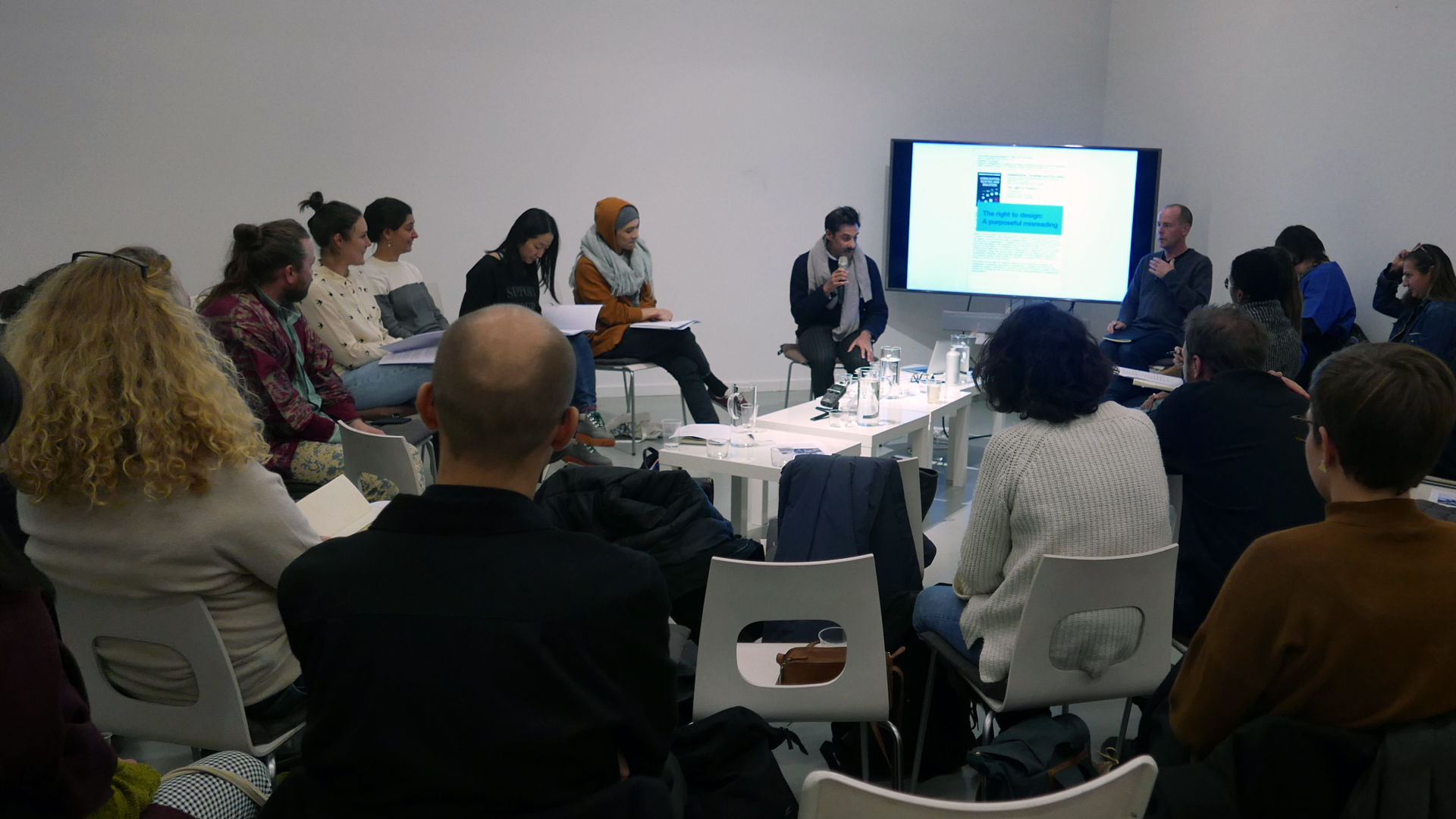 Thoughts and examples were drawn from formal education in academia as well as cultural projects, self-organised and activist initiatives. The seminar was organised in three sections with different perspectives; the first on educational institutions, problems and possibilities within; the second on conflicts, looking at borders as pedagogies, conflict strategies and self organised spaces for activism; then finally on settings and presenting examples of projects and platforms on decolonizing, indigenous placemaking, the right to design and on broadcasting urban research. 
Guests included Elof Hellström, Onkar Kular, Jess Myers, Joar Nango, Katya Sander, Socrates Stratis, Adélie Pojzman-Pontay, Alessandro Petti, Marie-Louise Richards, Pelin Tan and Magnus Ericson, and the students of the Decolonizing Architecture Advanced Course at Kungl. Konsthögskolan (KKH)/ Royal Institute of Art, Stockholm. The seminar was followed by a day-after gathering with a continuous discussion and a reflection on the development of the Urgent Pedagogies project.
Introduction
2 pm
Welcome and Introduction
Magnus Ericson and Pelin Tan
Part 1: Institutional Perspectives
2.15 pm
Introduction
by moderator Magnus Ericson
Sites and Situations
by Magnus Ericson
Decolonizing Architecture
by Alessandro Petti and Marie-Louise Richards
Prepared for the Task of Renewing a Common World
by Katya Sander
Panel discussion with Magnus Ericson, Alessandro Petti, Marie-Louise Richards and Katya Sander
Break

Part 2: Conflict Perspectives
3.45 pm
Introduction
by moderator Pelin Tan
Borders as Pedagogies
by Pelin Tan
Self Organised Spaces as Pedagogy
by Elof Hellström
Alice in Meridianland…or the right to transform conflicts
by Socrates Stratis
Panel discussion with Pelin Tan, Elof Hellström and Socrates Stratis
Dinner break

Part 3: Settings Perspectives
6pm
Introduction
by moderator Alessandro Petti
The Tree School
by Alessandro Petti
Beyond Chaos – Situatedness as a Tool in Indigenous Placemaking
by Joar Nango
The Right to Design: A collective and purposeful misreading
by Onkar Kular
Broadcasting Urban Research
by Jess Myers and Adélie Pojzman-Pontay
Panel discussion with Alessandro Petti, Joar Nango, Onkat Kular, Jess Myers and Adélie Pojzman-Pontay
Participants
Magnus Ericson
is a Project Manager at Iaspis, responsible for the design, craft and architecture related programme. He has a background as curator, project coordinator and educator. Between 2014 and 2018 he developed and managed two experimental postgraduate courses on socially-engaged critical practice; Sites and Situations and Organising Discourse, at Konstfack University College of Arts, Crafts and Design, Stockholm. Between 2009 and 2014 Magnus Ericson was a Senior Advisor/Coordinator and Curator for a new design-related program at Arkdes, Sweden´s National Center for Architecture and Design, in Stockholm. Between 2007 and 2009 he was assigned as a Project Manager at Iaspis to pursue and develop their activities within the fields of design, crafts and architecture. Together with Ramia Maze he was the author and co-editor of DESIGN ACT Socially and politically engaged design today – critical roles and emerging tactics (Berlin, Sternberg Press 2011).
Elof Hellström
holds a degree in aesthetics from Södertörn University and Post Master from the Royal Institute of Art in Stockholm. His practice and research often explores questions around space and power, in particular language, urban commons, gentrification and the relationship between art, politics and cities. During the last year he initiated reading groups inside and outside institutions and between 2016 and 2018 he was Lecturer at the Architecture department at The Royal Institute of Art in Stockholm. Since over a decade he is part of the self-managed cultural venue Cyklopen and he is co-founder of the interdisciplinarian collective SIFAV. Together with the collective Mapping the Unjust City he is currently a Iaspis grantholder in Stockholm.
Onkar Kular
is Professor of Design Interventions at HDK, Academy of Design and Crafts at the University of Gothenburg. His research is disseminated internationally through exhibitions, education and publications. From 2008 – 2015, Onkar Kular led the postgraduate design programme Platform 13 at the Royal College of Art, London, an interdisciplinary platform that explored the role of design within political and economic systems, culture and society. His work is in the collection of the CNAP, France, and the Crafts Council, UK. He has guest-curated exhibitions for The Citizens Archive of Pakistan, Karachi, and the Crafts Council, UK. Between 2014 and 2016 he was a Stanley Picker Fellow at Kingston University and he is the coorganizer of the educational framework Night School on Anarres. In 2017 he was the artistic director of Open Week, the first Gothenburg Design Festival.
Joar Nango
is an artist and an architect based in Norway. He is a founding member of the architectural collective FFB which works with temporary architecture in urban contexts. His works explore the boundary between architecture, design and visual art. Joar Nango relates to questions of indigenous identity, often through investigating the oppositions and contradictions in contemporary architecture. He has worked on the theme The Modern Sámi Space through, amongst other things, a self-published zine series entitled Sámi Huksendáidda: the Fanzine, design project Sámi Shelters and the mixtape/clothing project Land & Language. His projects have taken him to different places in the Sápmi where he made detailed studies of Sámi architecture. Joar Nango is currently an Iaspis grantholder in Stockholm.
Jess Myers
is a New York based architect writer, podcaster, and strategist focusing on urban planning and architecture. She is the editor of a book series on social justice, Taking Freedom, which will be published through a collaboration between the Service Employees International Union, Sage Publications, and the Community Innovators Lab at the Massachusetts Institute of Technology. Her podcast Here There Be Dragons takes an in-depth look at the intersection of identity politics and security policy in public space through the eyes of city residents. In the past, she has worked in diverse roles – archivist, researcher, analyst – in both New York and Paris, and within cultural practices that include Bernard Tschumi Architects. Jess Myers is currently an Iaspis grantholder in Stockholm.
Alessandro Petti
is a Professor of Architecture and Social Justice at the Royal Institute of Art in Stockholm and co-director of DAAR (Decolonizing Architecture Art Residency), an architectural studio and residency program centre around the relation of politics and architecture. In 2012 with Sandi Hilal he founded Campus in Camps, an experimental educational program in the Dheisheh refugee camp in Bethlehem. His lasted publication, Permanent Temporariness (Art and Theory Publishing, Stockholm 2019), is a book, a catalogue, and an archive that accounts for fifteen years of research, experimentation, and creation against and within the condition of permanent temporariness.
Adélie Pojzman-Pontay
is a journalist and podcast producer based in Paris. She produced and hosted Emotions – a 50-minute bi-monthly show exploring why we feel what we feel and what our feelings tell us about us as human beings and about the world we live in— for Louie Media, a French podcast production company. She graduated from Columbia Graduate School of Journalism in 2015, which she attended thanks to a Fulbright scholarship. During her career, Adélie has worked in Jerusalem, in Naples, Florida for the Naples Daily News and as a reporter in Santiago, Chile, for a local news radio station. She also covered the Paris terror attacks in November 2015 as a special correspondent. While working on season 2 of Here There Be Dragons in 2016 – 2017, she worked as an editor at BuzzFeed France.
Marie-Louise Richards
is an architect, lecturer and researcher at the Royal Institute of Art in Stockholm. Since 2018 she has been teaching the course Decolonizing Architecture. Her current research explores invisibility as a critical strategy, subjectivity and spatial category in the ongoing research project: Hyper-visible Invisibility: Tracing the Politics, Poetics and Affects of the Unseen, published in The Field Journal: Becoming a Feminist Architect (2017). And in the collaborative artistic research project Spaces of Care Disobedience and Desire: Tactics of Minority Space-Making, initiated together with Rado Ištok and Natalia Rebelo at the Royal Academy of Art.
Katya Sander
is an artist living and working in Berlin, teaching, writing and exhibiting internationally. Her main artistic interests are around the processes through which images, languages and spaces become institutionalised and appear as naturalised, and how these processes influences our way of inhabiting and understanding the world. Katya Sander is Professor at Nordlands Kunst og Filmskole in Kabelvåg, Lofoten, where she is in charge of developing structures and frameworks for teaching, learning and researching artistically for the school at large; i.e. for students as well as for academic staff. Together with Professor Pelin Tan she initiated the research hub Resilient Infrastructures as an example of a framework for content- and interest-driven research in an art- and film-school.
Socrates Stratis
is an architect, urbanist and Associate Professor at the Department of Architecture, University of Cyprus. His research focuses on the political agencies of architecture in conflictual plus uncertain spaces, supporting the urban commons.  His is the founder of critical urban practice AA & U for Architecture, Art and Urbanism. He is the editor of the Guide to Common Urban Imaginaries in Contested Spaces (jovis, 2016) and the curator of the Cyprus participation in 15th Venice Biennale of Architecture. Socrates Stratis is the project leader of Hands-on Famagusta and member of Europan Europe's scientific committee.
Pelin Tan
is a sociologist and art historian, currently  the curator of Gardentopia project of Matera ECC 2019, Italy and 2019 – 2020 Research Fellow of the Center for Arts, Design, and Social Research (US/Italy). She studied sociology and completed her master and PhD in Art History in the field of socially engaged art. Pelin Tan was in 2011 as a Postdoctoral fellow on Artistic Research at ACT Program, MIT DAAD Art History, at Humboldt Berlin University, 2006; The Japan Foundation, 2011; Hong Kong Design Trust, 2016. She was a Visiting Professors at School of Design, Hong Kong Polytechnic University, 2016 and at the Department of Architecture, University of Cyprus, 2018. Between 2013 and 2017 she was Associate Professor and Vice-Dean of the Architecture Faculty at Mardin Artuklu University. Pelin Tan participated in the Oslo Architecture Triennial in 2016, Istanbul Biennale in 2007 and 2015, Lisbon Architecture Triennial, and Montreal Biennial. In 2008 she was an Iaspis grantholder.
EDITED BYMagnus Ericson
LAST UPDATED2021-02-01